Contact Us
Ecowest Electrical and Energy Services, Roonith, Louisburgh, Co. Mayo.
t: 087 2931 805 e: info@ecowestelectrical.ie
Solar PV (Photovoltaics)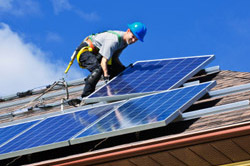 Photovoltaics is a technology with many advantages and unique selling points. It is worth summarising them:
Photovoltaic technology is mature, robust and reliable, has no moving parts and requires minimum maintenance.
No fuel or supply chain needed
Photovoltaic systems are relatively easy and quick to install – particularly grid-tied systems
The components used in photovoltaic systems have proved themselves during long use, they are weather resistant, UV resistant and can withstand extremes of temperature – in space exploration photovoltaics power space station life support systems.
Stand-alone photovoltaics can supply power practically anywhere on the planet
Photovoltaic systems reduce emissions of the greenhouse gas carbon dioxide
Photovoltaic modules are recyclable, various technologies exist which can recycle modules at the end of their lives or if they have been damaged; the cells, the glass, the aluminium frames can be either reused or recycled.
Photovoltaics promote energy awareness – home owners with grid-tied systems become interested in low energy appliances; with stand alone systems low energy appliances are essential.
Photovoltaic systems add to the value of the building on which they are installed.
Contact us for your project requirements
.